2023, Video Installation / Single Channel Video
Publication
Large Print series
22 mins, 4k
Viewing copy on
request
---
> Intro

Guarding a toilet at 3am, the silence and slight breeze touching my face, washing away the crawling fear of getting caught by the officer who was supposed to check on me to see if I'm standing upright at random times—such as 3:43am.

I have never daydreamed so intensely as the time I was serving mandatory military service in Iran. I couldn't stop drifting in thoughts, side-tracked while marching with other 300-ish folks in lines.

Sometimes I wonder, have I gone mad thinking back on those times with good memories? Am I apologetic about the whole army thing? I do wonder how come those memories of supposedly the darkest times of life have become so lucid, bright, and dreamy.

I suppose all these memories cipher into lines of code that give a glimpse into the dark amalgamation of chaos, conflict, and messed-up ties. While both hands stuck to the gun, I kept simulating a computer to write down all those codes. Compile them on myself, on the officer who's about to check on me in a minute, on the...

…still standing, perhaps upright, chin up, guarding a toilet at 3:55am.

A breeze plays with my cheeks and brushes the leaves.

Amsterdam, 15/03/2023
---
> Publication


I've been writing since october 2022 - it resulted into an upcoming publication "Line of Sight" / "خط دید" - this is a sneak peek to the prototype publication [Draft version] I made for @rijksakademie OpenStudios.

The book is a collection of poems, codes, ascii pictograms, absurdist stories, and other fragments.. emerged out of my personal sense of displacement, despair and hope that arised from Iran.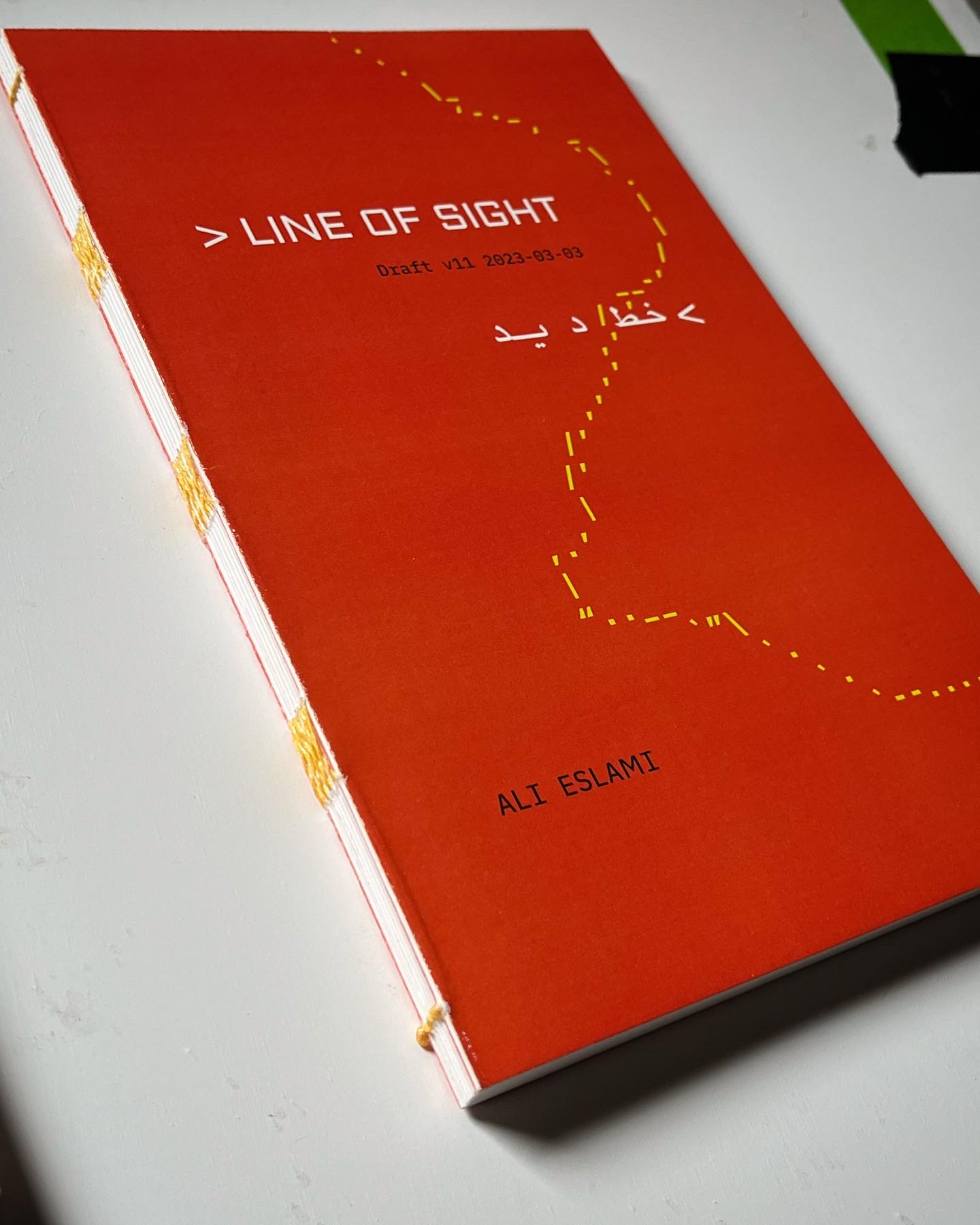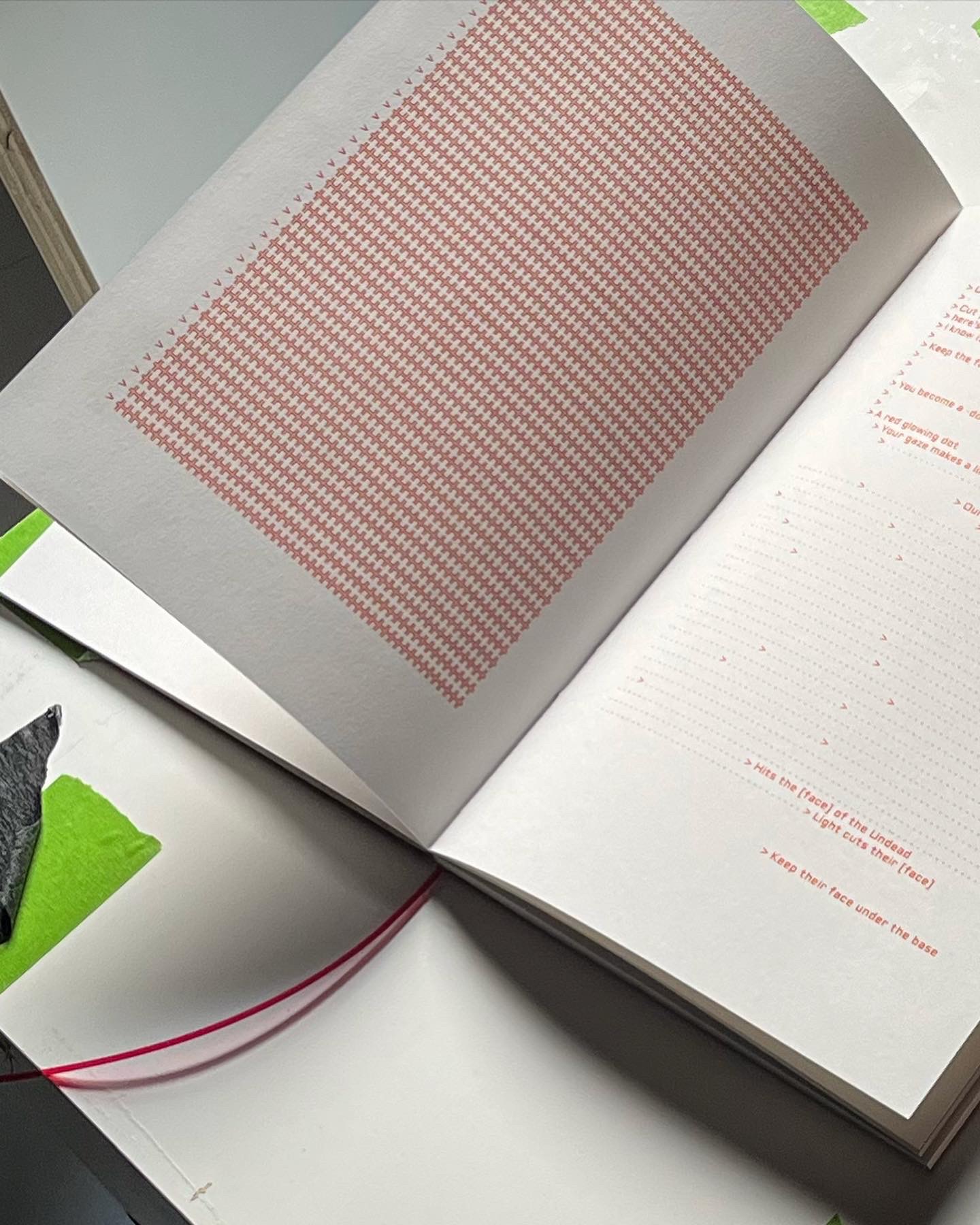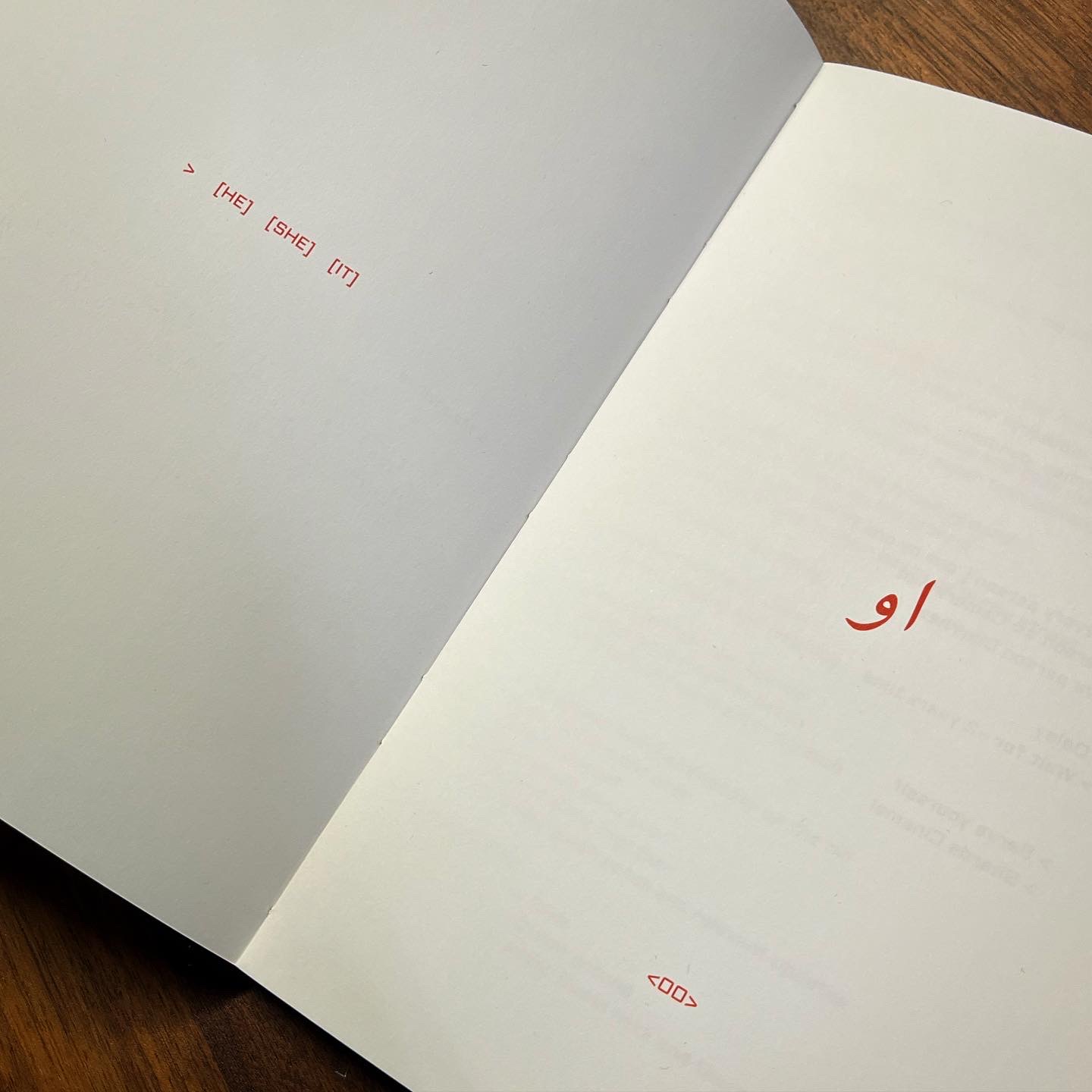 > Video Stills

---
> Installation Views


Rijksackademie Open Studios 2023, Amsterdam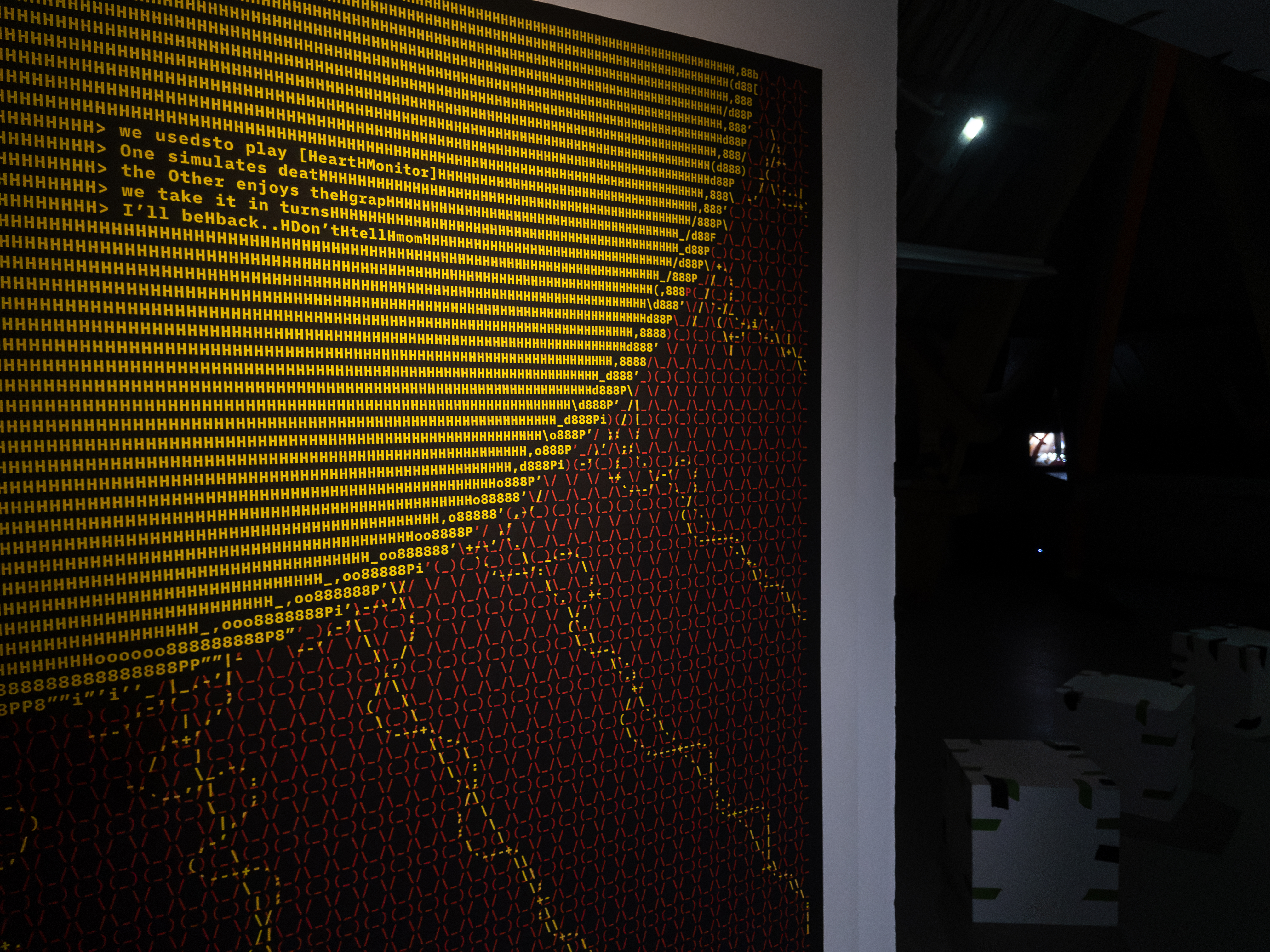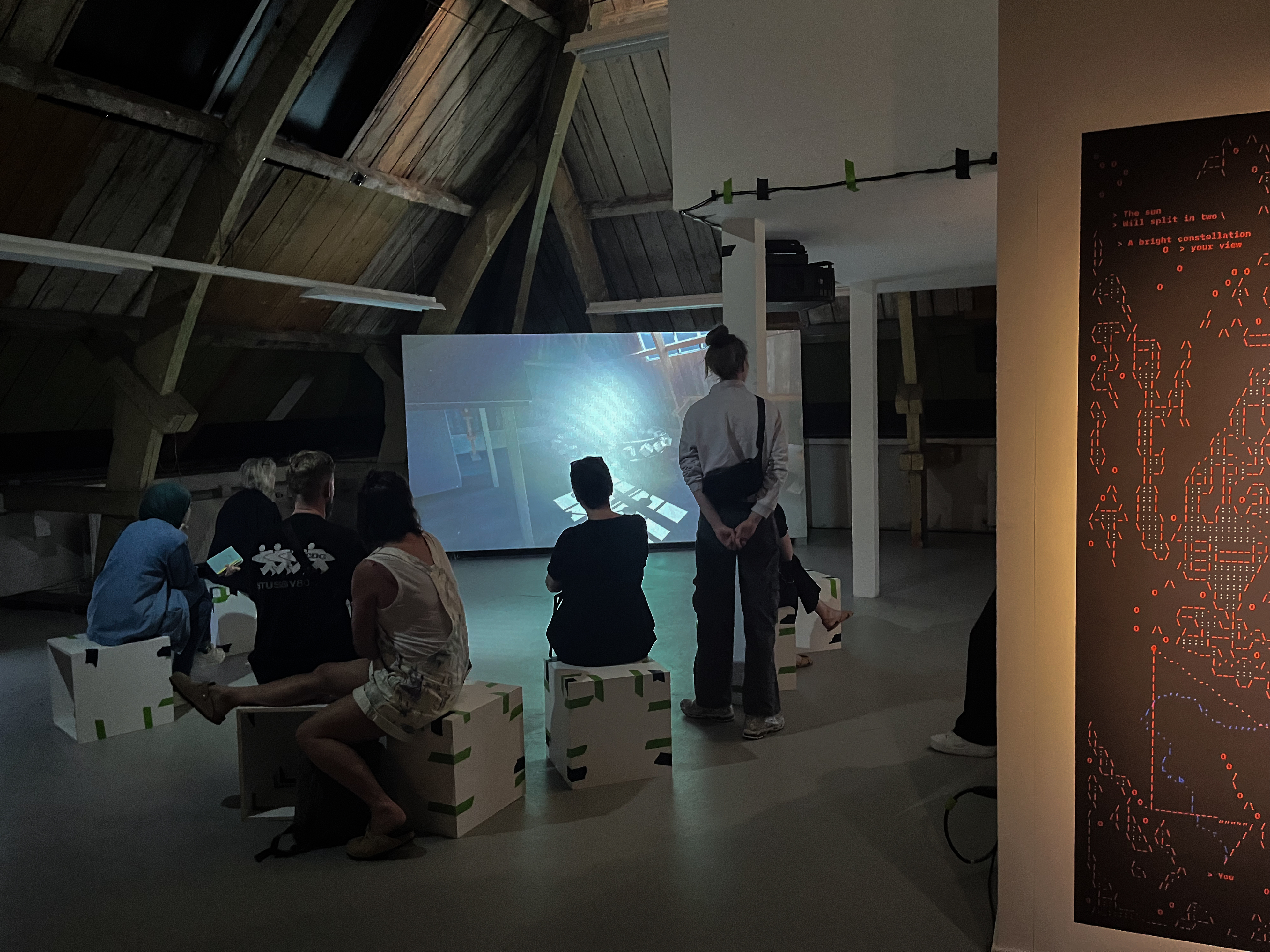 ---
> Excerpt

---
> Credits


- Editing, Direction, Sound: Ali Eslami
- Sound Engineering: Kenny Kneefel
- Production Assistant: Clemens Stumpf , Tomasz Skibicki , Ilse de jong
- Book Binding: Thekla Ahrens
- Video Documentation: Clemens Stumpf
- Photography - Sander van Wettum


Special Thanks to:
Molly Palmer
Rijksackademie workshop specialists, staff, and advisors